When I sent emails out to all of the bands that I have featured this year as part of my Scots Way-Hay posts I honestly didn't expect to get much of a response. Turns out that I was completely wrong, as I have been inundated by bands wanting to share what's been floating their boat this year. This week we have an array of choices from Bronto Skylift, Admiral Fallow, Kid Canaveral and the Lava Experiments, there are some cracking choices in there, plus a lot of stuff that passed me by. I'll defo be making sure that I check them all out though. Right, let's get on with the show, here's this weeks picks….
Field Music – Measure
chosen by Sarah Hayes (flute,vocals), Admiral Fallow
"I didn't realise it was a double album when i got it and was concerned it would be a bit self indulgent but needn't have worried. Just lots of great pop songs with some quirky touches."
(also loved 'Ian Stephenson-Line up')
…
Flying Lotus – Cosmogramma
chosen by Joe Rattray (bass), Admiral Fallow
"It's a really dense electronica/hip-hop album with jazz undertones and a great collaboration with Thom Yorke (…And The World Laughs With You)"
(also loved 'The Phantom Band-The Wants')
…
Sufjan Stevens – The Age of Adz
chosen by Phil Hague (drums), Admiral Fallow
"In Stevens own words "The Age of Adz, is, in some ways, a result of the process of working through health issues and getting much more in touch with my physical self. That's why I think the record's really obsessed with sensation and has a hysterical melodrama to it"
…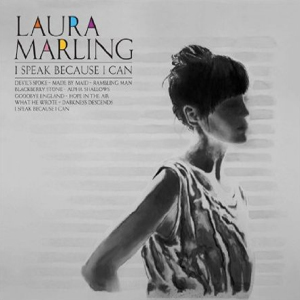 Laura Marling – I Speak Because I Can
chosen by Kevin Brolly (clarinet, keys), Admiral Fallow
"Marling's second lp released on 22 March 2010 was produced by the great Ethan Johns and has a more mature sound and lyricism, dealing with "responsibility, particularly the responsibility of womanhood."
(also loved Meursault-All Creatures Will Make Merry)
…
Local Natives – Gorilla Manor
chosen by Louis Abbott (songs), Admiral Fallow
"A brilliantly catchy guitar record with a lot of interesting harmonies and hooks. The band self funded the record which is pretty admirable these days. It was technically released in the UK at the end of '09 but in the U.S in Feb this year. Sneaky eh."
(also loved Frightened Rabbit-The Winter of Mixed Drinks)
…
chosen by Fraser, The Lava Experiments
"To those familiar with SWANS ignore the next few sentences. To the uninitiated, SWANS were established in 1982 by Michael Gira in NYC. They released in excess of 20 albums (studio and live) before their demise in 1997. During their career they produced some of the most aggressive, brutal, visceral, yet beautiful music I've ever experienced.
In January this year Gira announced that "SWANS were not dead". 'My Father Will Guide Me Up A Rope To The Sky' was released in September this year and for me it is the best album of the year.
Listening to the album wraps me in a blanket of melancholy; a rather comfortable blanket that has the converse reaction of being remarkably uplifting. Mountainous challenges no longer seem insurmountable. Irritations dissolve into the background noise, where they deserve to stay. This album makes me feel better.
It has the blueprint of the early day SWANS; a grotesque, relentless, pulsating backbone. Early SWANS are definitely an acquired taste and one that the majority would be delighted to by pass completely. But, this album is very accessible. That is probably due to the undeniable nod towards mid era SWANS where the feeling was more avantgarde psychedelic folk. There's a maturity in Gira's work that's inevitable with a musical career spanning almost 30 years. Topped off with some of the best vocals Gira has recorded (in my humble opinion) this is an outstanding piece of work and one I'd urge any reader to have a go at!"
…
"I had heard good things about the band that produced my favourite album of 2010, but like so many other bands that I hear good things about, I just hadn't had time to check them out. Luckily, this changed when we (Kid Canaveral) were asked by Half My Heart Beats to play with Standard Fare at their night in Glasgow. They were absolutely brilliant, and afterwards I couldn't buy a copy of The Noyelle Beat off of them quickly enough. We were off on a short UK tour after the Glasgow show and SF's album was on repeat almost the whole way.
There is something really rather special about this album, Emma Kupa's vocals in particular. She has a rare talent of not only singing the lyrics, but properly emoting them, sucking the listener into the situation and immersing them entirely in the song. I defy you to listen to 'Love Doesn't Just Stop' (which is the best song I've heard all year, and an absolutely devastating opener for an album) and not have the hairs on the back of your neck stand up when Emma hollers that note at the end of the verses. The playful interaction of Emma and Dan's vocals twisting around each other on 'Nuit Avec Une Amis' is a real joy to listen to, detailing the dangers and the subtleties of a possibly (probably) ill-advised liaison with a friend. 'Philidelphia' is just the sweetest song, and anyone who has been separated for a time from a loved one, over any distance whatsoever, will be able to relate to it. The three-piece instrumentation of the album could well have been limiting to a band with less imagination, but the wonderful rhythms and changes therein, that are best exemplified by 'Let's Get Back Together' and 'I Know It's Hard', show that that The 'Fare are not ones for simply knocking out "Four-to-the-Floor" indie by numbers.
Another real strength to this album are the vivid pictures it paints, not merely through the words, but the way the are delivered. Add the vocal performance and musical accompaniment to "my favourite thing/Saturday, Sunday morning/Dancing with you/In the living room" on 'Let's get back together' and it changes from something that could be awfully twee written down, to something beautiful, a passage in the song that takes you right to the feeling of an after hours moment with a loved one, the ordinary living room and the inebriated dancing becoming something amusing, touching, daft, intimate: just one of those wonderful moments. Similarly, 'Wrong Kind of Trouble' has a very simple set up, the music adding a slightly hazy quality to the situation described, and the pay-off of the last line, again, is all about the resigned, heart-broken sigh of the delivery. Just brilliant. Singles 'Fifteen' and 'Dancing', are joyous pieces of dancefloor-filling indiepop, with the latter being a close-to-perfect single (well, perfect actually) and providing Scott and I with a song to sing (terribly) whilst shambling out of a post-show club in Leicester. And many times since. It also contains one of the wisest couplets of recent times with "There's always gonna come a time when we don't know the answers/Always gonna come a time when we should just go dancing". The wonderful opening drawl of the first few lines of 'Wow' is what I have been bothering my neighbours with by belting them out in the shower for the past couple of months. It's a brilliantly judged closing track for the album.
Yes, the lyrical content is something that many bands have done over and over (well, most bands): love and loss, desire, longing, libido, friendships, mistakes, dancing and drinking, but very, very few manage to add that little bit of magic that Standard Fare do, the bit that a listener can really connect to. I have read and heard many people comparing Standard Fare to the Popguns, and while The Popguns are responsible for one of my favourite singles ever, I think that Standard Fare have surpassed The Popguns back catalogue with 'The Noyelle Beat'. I don't think that The Popguns ever bettered their third single "Waiting for the Winter", which is a perfect pop song (one of the b-sides 'Because he wanted to" was wonderful too, mind), whereas I would rate at least a couple of the songs Standard Fare's debut as equals to this, and I would say 'Love Doesn't Just Stop' and 'Dancing' actually top it.
There is wit, sincerity and real joy in so much of the album. None of it is laboured or tortured with emotion. It is unpretentious, genuine, heartfelt and moving, without ever being earnest or sickeningly twee. I absolutely love it, and that doesn't happen to me often at all. I haven't listened to album this much since 'The Midnight Organ Fight' came out, and there isn't much higher praise than that".
More from Peenko, officially the 87th hottest thing in Scotland, at his blog here…
Image Credit: Admiral Fallow by Jenny Soep